At Anaheim Eye Institute, our goal is to treat you as a special guest and provide you with exceptional care and attention. Our kind, friendly staff makes your surgery a pleasant experience with minimal stress and no discomfort. As you consider surgery, we encourage you to ask questions and share your concerns. We want you to be completely knowledgeable about cataracts —how we treat them and what you can expect with surgery.


Cataract Surgery at Anaheim Eye
We take your trust in us very seriously. Our highly experienced team concentrates on achieving the most successful surgical outcome using the most advanced surgical options available anywhere in the world. With thousands of procedures and decades of combined surgical experience, the team at Anaheim Eye Institute has set the standard in quality vision correction since its inception in 1958. This experience, combined with the most advanced technology, personalized care, and comprehensive selection of lens implant options, makes Anaheim Eye Institute your clear choice for the most advanced eye surgery available
What exactly is a cataract and how is it treated?
A cataract is the clouding of the normally clear lens inside your eye. It is not a covering over the eye and it does not change the outward appearance of the eye, as is often mistakenly thought. It also does not cause any external symptoms such as irritation, tearing, or "tiredness" of the eyes; however, it does significantly decrease the quality of your vision. Though painless, a clouding of your lens alters your vision by restricting the amount of light that goes through your eye.
When the natural lens inside your eye becomes cloudy, it is called a "cataract." In addition to hazy vision, symptoms of a cloudy lens include increasing night-time glare, causing poor night vision and a change in how your eyes perceive colors. Once the clouding of your natural lens begins to diminish the quality of your vision, your surgeon will recommend Lens Replacement Surgery to remove your clouded lens and replace it with a clear artificial lens implant to help restore your vision.
In a healthy eye, the iris (the colored part of the eye) regulates the amount of light that enters the eye though the pupil. The light then passes through the lens, where it is focused onto the retina at the back of the eye. Signals are then sent from the retina to the brain via the optic nerve, where they are translated into the images you see. An eye with a cataract functions normally, except that the lens has grown cloudy.
Light enters the eye as usual, but the clouded lens disperses the light, causing the retina to have difficulty transmitting a clear image to the brain. Therefore, because the light that the retina receives is patchy, the retina's transmissions to the brain are also affected, resulting in hazy, poor-quality vision. But when your ability to read, work, drive, or carry out other normal activities is hindered in any way, Lens Replacement Surgery will likely be the best possible solution.
How do you know if you have clouding of your natural lens (cataract)?
The most important step is to visit your eye doctor so that he or she can evaluate your vision. This evaluation will generally include vision tests, an eye exam and a review of your medical history to uncover any other vision problems you may have. If you are found to have a clouding of your natural lens, the team at Anaheim Eye Institute offers the most advanced, micro-incision, no-stitch Lens Replacement Surgery combined with the most exhaustive laser and implant options you will find anywhere in the country.
Lens Replacement Surgery
In order to remove the clouded lens inside your eye (the cataract), the surgeons at Anaheim Eye Institute use only the most advanced micro-incision surgical methods. This allows for less risk, faster healing, and sutureless surgery. Our surgeons will begin by making a painless incision to enter the eye in order to remove the clouded lens inside. Then, through a process called phacoemulsification, the surgeon uses high-energy ultrasound to break the cloudy lens into micropieces for removal through the small incision. The cloudy lens will then be replaced by a new artificial lens implant (IOL). The new lens will not change the outward appearance of your eye, but it can dramatically improve your vision. Because the clouded lens inside your eye (the cataract) is replaced with a clear artificial lens implant, this surgery is called "Lens Replacement Surgery." The exact prescription power of each lens implant is measured specifically for your eye. All lens implants are held in place by small flexible loops attached to the lens.
Lens implants are intended to last a lifetime and are made of materials like silicone and acrylic that will not irritate your eye. Although your vision should be clearer after surgery and the associated healing process, depending on the lens implant you choose, you may still need glasses to optimize your vision.
Title for Image / section ??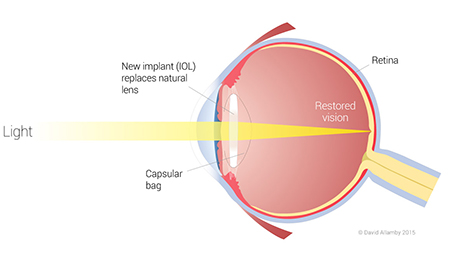 At Anaheim Eye Institute, patients who desire to reduce their dependence on glasses after Lens Replacement Surgery may choose from a wide variety of IOL options available for that purpose as well as consider having laser vision correction performed following Lens Replacement Surgery. That is why it is vital that you choose a center with a full menu of laser, IOL and cataract surgical options.
There is also a possibility that, down the road, a secondary lens membrane will form. This occurs when the capsule that holds the new lens becomes scarred or cloudy. In such cases, a laser treatment, or YAG Capsulotomy, is used to make an opening in the capsule. Anaheim Eye Institute owns and operates the most advanced of these lasers and can perform this procedure in the office instead of having you return to the surgical center as many other practices require you to do. This treatment, which only takes a few minutes to perform, will clear up your vision by removing the scarred membrane and allows more light to enter your eye.
Now Offering ORA!
Just when you thought technology couldn't get any better, Anaheim Eye Institute is pleased to offer a new measurement tool which helps customize your vision even further during cataract surgery. The ORA system provides real-time analysis of your eye during surgery. Before ORA, there were no tools available to precisely measure power once the cloudy cataract had been removed. Previously surgeons had to rely on the less accurate measurements that were taken before surgery when the cloudy lens impaired precise measurements. With this new technology, verification of the proper IOL happens during your surgery giving you the best vision possible!
Our surgeons now utilize ORA (Optiwave Refractive Analysis) with all lens procedures to ensure proper IOL selection – technology that truly customizes your unique vision. With the use of ORA during your cataract surgery, you can ensure your procedure will be optimized and the analysis will provide our surgeons with guided information that will confirm the proper correction for optimal visual outcomes. For patients with astigmatism, those who have had prior LASIK surgery or those who are having a premium IOL implant, ORA can improve the accuracy to help reduce the need for glasses after your procedure.