OUR 

TECHNOLOGY
We offer the best in technology to give you the best in treatment.
Zeiss Cirrus OCT
This is a clinical powerhouse piece of technology is optimized for advanced care practices. It is configured with FastTrac retinal tracking system and the most sophisticated clinical applications such as Advanced RPE analysis and Ganglion Cell Analysis
Nideck OPD 3 Scan
NIDEK OPD SCAN III Wavefront Aberrometer, Topographer and Visual Function Device featuring 2520 aberrometry measurements, over 11,000 topography measurements, photopic and mesopic pupillometry, lenticular retroillumination, a toric lens planning tool, and visual simulations replicating photopic or mesopic conditions.
Oculus Pentacam
The Gold Standard in Anterior Segment Topograph. Within a mere second the Pentacam® supplies you with precise diagnostic data on the entire anterior eye segment. The degree of corneal or crystalline lens density is made visible by the light scattering properties of the respective media and is automatically quantified by the software.
Zeiss IOL Master
With the IOLMaster we save time. All biometric measurements are possible with a single system. Without any need to move from machine to machine, we measure all parameters required to calculate the IOL power: axial length, corneal radii, whitetowhite and anterior chamber depth. The results are available immediately.
Zeiss Humphrey Visual Field
Offering the industry's broadest selection of perimetry products, Carl Zeiss continues to set the gold standard for quality, precision and innovation worldwide. The gold standard with comprehensive connectivity options Validated by more than 25 years of research, design and clinical experience, the Humphrey® Field Analyzer (HFA™) is the accepted standard of care to aid in glaucoma diagnosis and management.
Zeiss Atlas Topographer
The ATLAS System delivers the clinical accuracy essential to today's eye care, now in a more powerful and easier to use platform. With applications including contact lens fitting, pathology detection and management, and selection of aspheric IOLs, the new ATLAS System is the right choice for reliable real-world results, every time.
Optos Camera
The P200C is designed to meet the need for more exacting clinical imaging capabilities within practices that are managing a patient base with ocular disease – delivering both ultra-widefield and ultra-high resolution images to facilitate disease management and clinical analysis. Improved automated eye steering promotes easy multiple image acquisition from a single patient to capture far-peripheral abnormalities.
LenStar
Precise measurement of the entire eye, from the cornea to the retina, is key to achieving the best IOL prediction accuracy in surgery. The Lenstar is the first optical coherence biometer to provide the surgeon with all measurements necessary to take full advantage of the latest IOL prediction methods such as the Holladay 2 and the Olsen formulae and is ready to meet your needs for future multi-variable formulae. Lenstar measurements include central corneal thickness, anterior chamber depth, lens thickness, axial length, keratometry, white-to-white distance and pupil diameter.
LX SLT LASER
Selective Laser Trabeculoplasty is clinically proven to treat glaucoma by safely and effectively reducing intraocular pressure in a single, office procedure. SLT can be an effective adjunct to medication therapy or used as a primary treatment to reduce or eliminate the need for topical glaucoma medications, along with their common systemic side effects. SLT has the potential to save you thousands of dollars in prescription medication costs and improve compliance.
WaveLight® Allegretto Wave® Eye-Q Laser
Only LASIK with WaveLight® offers the flexible performance of Wavefront Optimized® LASIK, for faster treatment of more patients with less effort. Wavefront Optimized® LASIK depends on the speed and safety of the advanced WaveLight® Allegretto Wave® Eye-Q Laser, precision-engineered for faster, accurate procedures.
The Intralase
If you have heard of "bladeless lasik," then you have heard about intralase. Intralase is one of several techniques and lasers available for performing lasik eye surgery. The Intralase method is a 100% blade-free technique. In comparison, with traditional lasik eye surgery where a blade is used for the first step, creating the corneal flap. The corneal flap is necessary to allow the laser to reshape the inner cornea. The reshaping of the cornea by an excimer laser is where the actual correction of vision occurs.
ORA System (Optiwave Refractive Analysis)
Just when you thought technology couldn't get any better, Anaheim Eye Institute is now pleased to offer a new measurement tool for surgery which helps customize your vision even further during cataract surgery. The ORA intraoperative aberrometry system provides real-time analysis of your eye during surgery. Before ORA, there were no available tools like this. Prior to cataract surgery, other measurements are taken to ensure proper IOL (Intraocular Lens) power selection but there was always a margin of error when making the proper selection. Surgeons are unable to assess quality of vision during the cataract procedure and would need to wait weeks to determine if the proper IOL selection was made. With this new technology, verification of the proper IOL happens during your surgery!
Dr. Neal now utilizes ORA (Optiwave Refractive Analysis) with all premium lens procedures to ensure proper IOL selection – technology that truly customizes your unique vision. With the use of ORA during your cataract surgery, you can ensure your procedure will be optimized and the analysis will provide our surgeons with guided information that will confirm the proper correction for optimal visual outcomes. For patients with astigmatism, those who have had prior LASIK or those who are having a premium lens implant, ORA can improve the accuracy to help reduce the need of glasses after your procedure.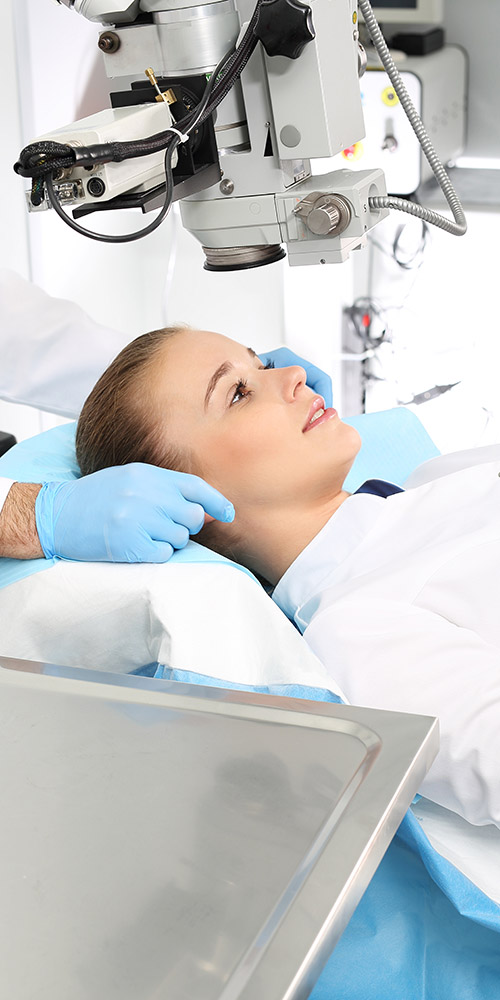 To find out more about this technology, call today at 714.533.2020