A Pterygium is an abnormal fibrovascular growth from the white covering of the eye on to the clear cornea. This growth is most commonly present on the nasal aspect of the eye and has common symptoms of irritation, foreign body sensation, blurred vision secondary to astigmatism caused by the pulling the growth on the cornea, and in severe cases visual loss from the uninhibited growth of the pterygium across the cornea and into the visual axis.
The major cause of pterygiums is exposure of the eye to the UV radiation of the sun. As such prevention through the use of quality sunglasses is of critical importance. However, when present and causing symptoms, surgical removal is performed.
At Anaheim Eye Institute, Inc., Dr. M. Reza Neal has advanced fellowship training in the surgical treatment of pterygia. This is a very particular and nuanced surgical procedure which has gone through many changes in recent years. Prior to such advancements in surgical technique, recurrence of the pterygium and or damage to the structures of the eye from the use of radiation or chemotherapeutic agents was unfortunately all too common. However, using the most advanced technique, Ptergygium surgical excision and graft placement has reduced recurrence rates to less than 2.5% of cases. The current technique also utilizes natural fibrin glue instead of stitches thereby providing patients with a comfortable surgical experience and a great postoperative cosmetic result!
Before and After
1 week
pterygium patient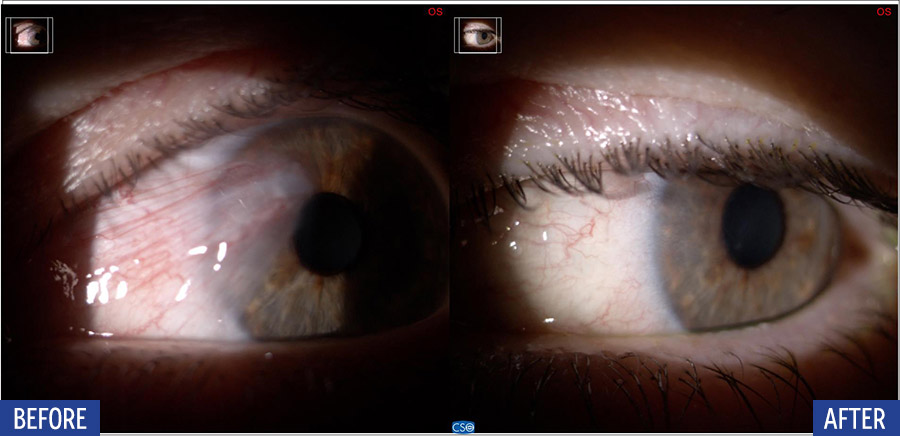 Corneal Transplantation at Anaheim Eye Institute
The Cornea is the transparent front part of the eye that covers the anterior chamber, iris, pupil and lens. It is the clear window through which we see the world and it is the eye's most powerful focusing element.
Unfortunately the Cornea can become damaged and lose its clarity and focusing power through injury, infection, genetic diseases, or other eye surgeries. When this happens patients stand to lose considerable clarity of vision. When this is the case, corneal transplantation offers an opportunity to restore sight. Corneal transplantation is a surgical procedure available at Anaheim Eye Institute where a damaged or diseased cornea is replaced by healthy donated corneal tissue. The donor cornea is taken from a recently deceased individual with no known diseases or other factors that may affect the viability of the donated tissue or the health of the recipient.
There are two main types of corneal transplantation surgery: full thickness penetrating keratoplasty (PKP) where the entire thickness of the cornea is replaced or partial thickness keratoplasty in the form of Descemet's Stripping Endothelial Keratoplasty (DSEK) which is performed exclusively for corneal swelling. Dr. Neal is a fellowship trained Anaheim corneal transplant surgeon with extensive training and experience in both forms of transplantation. Following comprehensive examination of your eyes with the world's most advanced corneal diagnostic equipment, he will discuss with you all of the options to restore your sight should it be damaged from corneal disease.