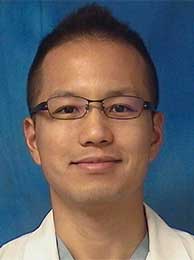 Dr. Lin studied biochemistry and classics at Stanford University before joining Harvard Medical School's prestigious MD-PhD program. While completing his clinical curriculum at Harvard, he also completed his PhD in Biophysics, and performed optics research at MIT and Massachusetts General Hospital's Center for Molecular Imaging Research.
After graduating from Harvard Medical School, Dr. Lin completed his ophthalmology residency at UC Irvine. He was elected Chief Resident and appointed Assistant Clinical Professor at UC Irvine, teaching residents to manage complex cases. Dr. Lin also joined the clinical committee of the American Society of Cataract and Refractive Surgery (ASCRS), and has served as a panelist, moderator, and presenter at the national conventions. Dr. Lin is proud to be actively involved in educating young ophthalmologists, as well as regularly volunteering at the local free eye clinics throughout Orange County.
After serving as Chief Resident at UC Irvine, Dr. Lin completed a coveted glaucoma fellowship where he was trained in the most advanced surgical treatments of cataract and glaucoma. As an active participant in the education, research, clinical and surgical care of cataract and glaucoma, Dr. Lin feels very privileged to be helping patients achieve their best visual potential here at Anaheim Eye Institute.