Best Advice for Working Out in Glasses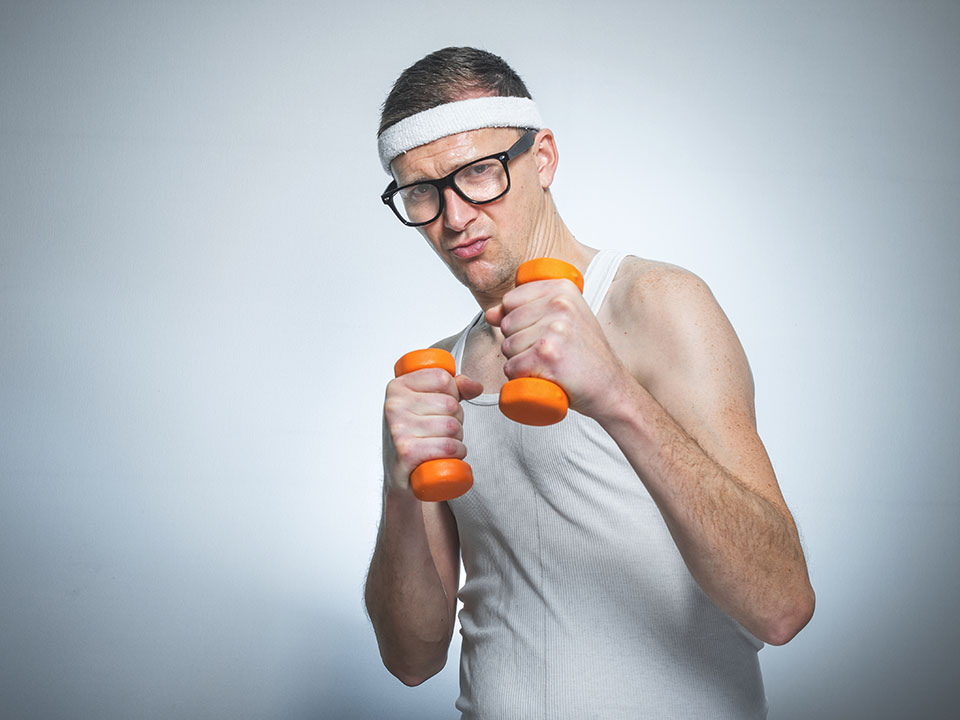 There is no magic to exercise. The more effort you put in, the better for you. But that does not mean running down the treadmill the whole day. Working out the entire week minus any break in between might not guarantee the desired results. Experts say that attaining that toned body or shedding excess weight depends on how smart you work out.
That said, sometimes even finding time for morning runs or a few minutes of lifting weights can be quite challenging. But time is just one of the few factors that may conspire to deny you quality time in the gym. Wearing glasses to sweat is one of the most difficult challenges you may have to deal with.
Not being able to see correctly is already enough challenge. But wearing spectacles that bounce, slip down, fog up, or get smeared with fog is inconvenient and potentially dangerous. The hassle of keeping your glasses in good shape and preventing them from falling off is not a recipe for a quality and intelligent workout.
Luckily, there are practical tips you can use to make it easier to hit the road with your glasses. Let's explore some of them!
Wear Sports glasses
Every sport requires a unique set of skills for success. However, the critical need for good vision during any sports activity must be addressed. It would help if you acquired sports glasses that will protect your eyes and enhance overall performance in the gym.
Besides your regular eyewear, consider buying a pair of sports glasses to help you with morning runs and evening cycling. The main disadvantage of sports glasses is that they are custom designed for those intense sporting and workout sessions. Sports glasses enhance vision and provide extra eye protection during exercises.
Unlike your regular glasses, sports glasses come with frames made from lightweight and durable materials. Also, the arms are uniquely made to fit tightly to the head. The frames provide a firm grip even when you are sweating and prevent the glasses from moving or falling off when you're moving around vigorously.
Some of these sports glasses also come with glazed lenses that are lightweight and more durable. Consider some glasses which have gaps around the temples. The gaps are specifically designed to allow better air circulation and reduce fogging during intense exercise.
Invest in a glass strap or band
You may not see well while in the gym or running. But you cannot give up on your workout sessions because that might expose you to major health risks. And because you do not want to find an excuse for not missing out on workout sessions, the best way to deal with loose frames of your spectacles is by buying straps or bands.
The straps, or bands, are strips of fabric that firmly connect the arms of your glasses behind your head. The tighter the band, the firmer your glasses will remain in good shape. The bands also come with a looser cord hanging around your neck while exercising. The loose cord prevents your glasses from dropping on the floor if they accidentally slip off your face.
The bands are a solution to glasses that slips off after every few minutes. You will not have to interrupt your workout sessions to fix your glasses again. You should only use these bands or straps when there is little chance they will get tangled in any machine or workout equipment.
Additional grip to your glasses
You already know there are bands you can use to make the frames firmer. However, you can also use adjustable ear or nose grips on your glasses. In addition, you can consider using special wax on your skin if the glasses will not just stay in one place. For people who sweat a lot, the best option is always a strap that will hold your glasses in place.
The adjustable nose pads and ear grips ensure no interruption during your favorite workout session. You can ask for glasses that come with free adjustments that make it easier to achieve a perfect fit.
Always carry a cleaning cloth or Wipes
It is almost impossible to avoid those steamy, sweaty moments. But you can remove the smears or smears using a cleaning cloth or wipes.
Most of these wipes and cleaning cloths are protected by secure packaging. You can therefore keep a few in your pockets as you power through the treadmill. The wipes will keep your lenses clean and further maintain their quality—the cleaner the lenses, the clearer your vision during the sessions.
By frequently removing sweat and condensation from your glasses, you also prevent bacteria from building up on your glass frames.
Consider using glasses with lighter frames
You may have prescription glasses that are generally bulky. That does not prevent you from getting glasses with lighter frames. If you have not noticed, heavier glasses feel bulky during any movement involving high-intensity exercises.
Go for frames that are rimless and made from lightweight plastic materials. They are lighter and thus will not inhibit your movement during any exercise.
You can use contact lenses
Some people feel uncomfortable wearing glasses during their workout sessions. The problem with this is that you may need to see clearly and end up having an ineffective workout. Contact lenses are also only some people's choices. Some people experience high eye sensitivity when they put on contact glasses.
If you experience eye sensitivity or dryness, you can carry eye moisturizing drops to the gym. Contact lenses prevent the glasses from slipping, fogging, and falling off.
Takeaway
Finding an excuse to skip the gym daily is not that hard. Whether running errands or doing house chores all day, there is already enough competing for your attention. However, do not just let your glasses be one of the reasons you did not stick to your workout routine.
There are good choices of fitness-friendly glasses and other practical tips you can use to get the most out of your gym sessions. Contact us today for more insight on these and eye-related topics.